Review of the Buffalo special 6 trousers – these have a lot to live up to. Having used a pair of Paramo trousers for summer/winter walks for the past eight years – will these match up to their high standards? In winter I did add a layer of thermals in the past, but for these I'm not going to, as with the jacket you are meant to wear these next to your skin. So how did they do?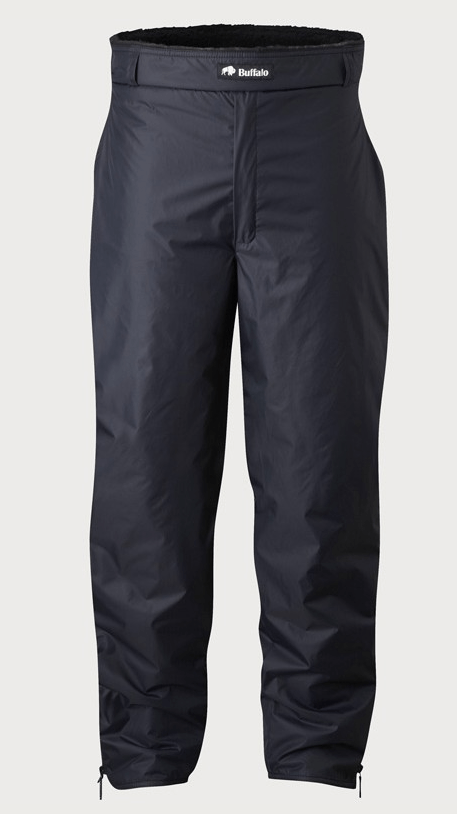 Buffalo Special 6 Trousers
As mentioned I've had paramo trousers for the past 8 years. They've seen me climb many a hill in summer and winter and I'm more than happy with them. Good sized pockets, light in weight, waterproofing and windproof ratings were very good. But being so old and very well used – they needed replacing. Seeing as I'm getting a bunch of other Buffalo gear, it seemed logical to get Buffalo trousers as well!
Taking these out of the bag and you can feel the warmth in them. Almost feel a bit like ski trousers – will I be TOO warm! Full length zip, and what seems like a unique way to zip them up. Rather than being a button at the front (like most trousers), it had fasteners at the side. So a small zip on each side along with some Velcro to make sure they stayed closed. Disappointingly they only had one pocket on the back which wasn't very big. I'd really like more – previous paramo ones had deep pockets either side. So this felt very limiting.
Out and up the hill, I was nice and warm. Quiet frequently you'll start off cold and soon become too warm as you build up some heat. This did happen with these, but I was never sweaty. They do have full sized zips to cool you if needed. I didn't. Instead I unzipped a bit on the jacket to let a bit more cold air in.
Rain
As with the rest of the gear, it's main test came once the rain started and once we were up at around 6-700m mark. I can't say that at any point while walking I felt cold. It was raining constantly and when we did stop at the top for some food – you could certainly feel yourself getting colder. The wind was fairly strong and at points I could feel a direct coldness on my legs. This was either the wind making it through the zips which run up the entire length of the trousers or it was the wetness working it's way through the trousers.
Hard to define, while looking at my trousers the area that was feeling cold was wet – in that you can tell by the colour of them that the area was cold was damp (not repelling the rain). I do suspect it was more the wind cutting through the zip lines as they do not have any protection on the skin side to keep them away from the zips. And it was when the gusts were strong that I'd feel the chill. This only happened while I was stationary (at the top eating some food).
Score
Warmer than my paramos, but I don't think they are as waterproof and the lack of pocket space isn't great. But these are still good, comfy trousers and suitable for probably any weather.
8 out of 10
Other Gear