One of the narrowest ridges in the UK – Aonach Eagach. Is it dangerous? Should I try it anyway? Is there a way to complete the munros on either side (Meall Dearg and Sgùrr nam Fiannaidh) and avoid the ridge? Sgùrr nam Fiannaidh at 967 m high on the west side, and Meall Dearg at 952 m on the east side are both joined by what many would call a spectacular ridge.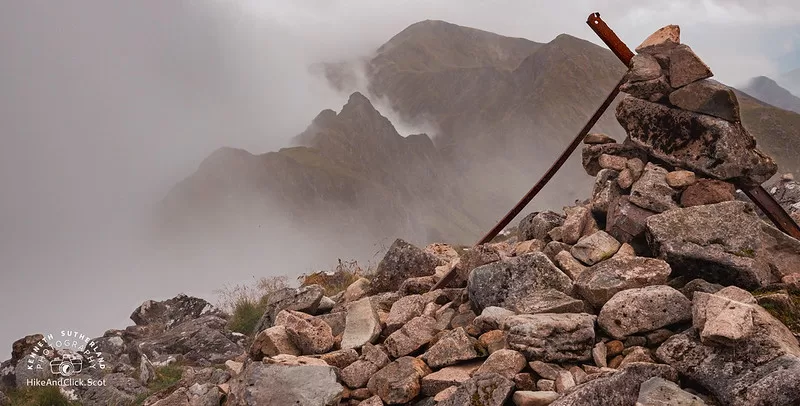 Every hill has its dangers, some more than others – this is one of those that's rather more dangerous. On the same day that I was doing Meall Dearg, 3 other people were doing the ridge and unfortunately they didn't make it off alive. So what are my answers to the previous questions? Well I'll outline where and how I went via my many photos and a bit of description to aid along the way.
I'll need to split this into two posts and to get to the point – if you want to avoid the ridge, then you can't do both in the same day (at least not without going up, down, go for a drive, up and down again.
Part 1 – Overview
Height – 952m
Total ascent: 956m
My Time – hours
Distance – 10 Km
Season completed – Summer
Difficulty – 4 / 10
Weather – clear skies (on the whole, see photos), little wind. It was raining and the start and the end of the walk.
Just want to see the photos to get a feel for the hike – click here
Dangerous
Plan ahead, always plan for changeable weather, but do stick to your choices. As already mentioned and obviously at the time of the walk I didn't know, but 3 people died very close to where I was. If you do make last minute changes and something goes wrong then it will make it rather hard to find yourself, plus last minute changes mean it wasn't planned – never a good thing!
Did I consider doing the ridge – a wee bit yes. I've now done a good number of summits and a bit of scrambling around, but no rock climbing or anything remotely requiring ropes. Having read about walks that were 'hard', and then done them found them not to be so does make you think – well it's probably fine.
But this is a one of those that I felt went beyond my skill level when on my own. So before I left I had decided I'd not do the ridge. At the summit of the first munro did have a bit of a second thought, but nope, stuck to what I'd planned.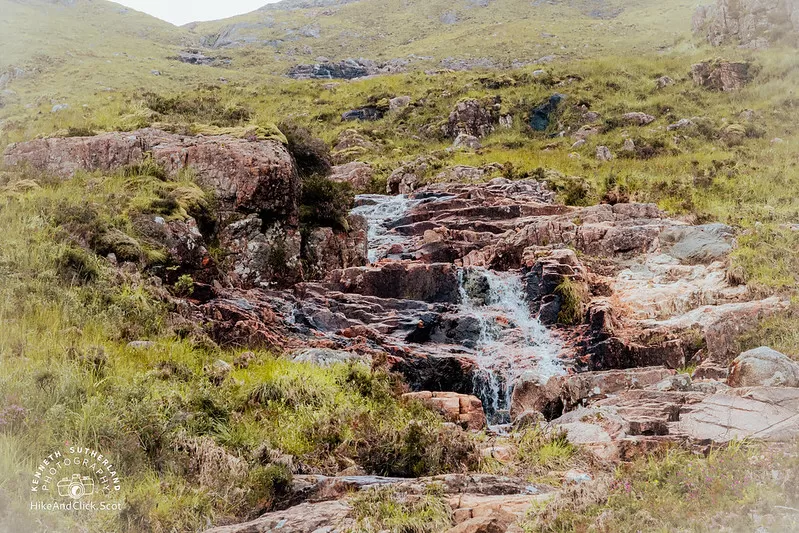 Caolasnacon Camp site
There is a 'wee' campsite on the north side of the ridge, and they don't do advanced bookings. But for a one man tent and given the space they have I can't see you not getting a space there. It's got a great sized toilet/shower block, amazing views, and depending on where you pitch you can even get power. Ideal to recharge your phone or whatever.
What's better is you can walk out of it and straight up to the first murno – Meall Dearg.
Starting point?
If you do camp at the site then you only need to walk a very short distance along the road. You'll cross over two small bridges and then you will see the opening.
For those in a car, then there is next to no parking. A couple of small layby's which will probably take 2-3 cars each depending on how people park. They are on either side of the bridge closest to the opening. Check the below map (click to open in OS maps) for exact location point.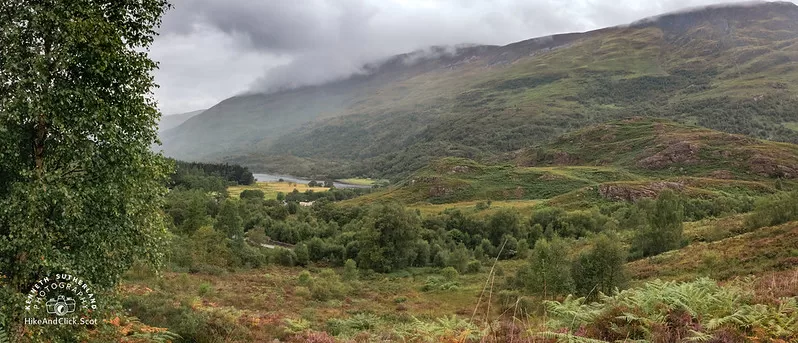 Mildly boggy
Start of the route is a bit boggy, the kind where on the way up you take care to avoid getting your boots too muddy and it's do-able. But for the way down you just trudge through as you can't be bothered hopping around the place by that point 😁
Path is fairly obvious, perhaps a bit here and there where you just keep walking along an approximate route/path as in the hieght of summer there is obvioulsy a lot of growth.
Found that it wasn't until you get to a small/medium sized stream that needed to be crossed that the path then became invisible on the whole (roughly 1.5 – 2Km along the route). If you look at the map, it's the point where the route deviates up and away from the main river. For myself visibility was fine, so it was clear where to go, but if visibility was poor then you would need to take your time to get bearings etc. On the positive side though there isn't any steep cliffs or edges that you could just come across to fall over if you did go off track a bit.
Fence – it's the path
Once you get a bit higher up (again on the map, right as you turn south) you will see a fence, or at least the remains of the metal posts. This is your path and guide. They will lead you all the way to the summit. There is a sort of path, places where it's a bit worn out, but others where it's just rocks. The posts are brilliant to keep you on track.
Route
Summit
Now that you have reached the top, all going well you will have some awesome views, sit down grab some food then make your way down the exact same way you got up.
Should you get back in time, I had a quick shower at the camp then headed into Glencoe village. Stopped at the back of the Glencoe Inn (there is also a Pizza place – Red Shed Pizza's) and had some very tasty food. Unfortunately they stopped serving at 8pm and I only managed to get myself a main meal. When I asked about getting a pudding, I was told that the kitchen had closed 🙁 Would have been good to know – but the main meal was rather tasty,