Wild camping – day 1
Height – 1051 m highest point
My Time – 12 hours (29.2km)
Season completed – Summer
Difficulty – 5 / 10
Weather – Slightly windy, sunny, cloud level above the summits
Just want to see the photos to get a feel for the hike – click here
Part two (day 2) – see here
Planning
I've written a started guide for those planning to go wild camping. It can be found here – https://hikeandclick.scot/general/a-guide-to-wild-camping/ This covers some topics such as planning, food and gear.
Cycle
If you look at the route map, you can see that this hike has a very long lead in and its also very flat. Ideal conditions for a bike 😎. The middle of the 3 summits also has a loch, and isn't too far from where the bike trail portion would end. Plus there are another 2 munro summits well within reach of the 3 listed here, if taken from the loch area.
Very much an ideal wild camping location.
I wasn't alone in thinking the same. When we got to Loch nan Eun there was around 20 tents dotted around the loch! Wasn't expecting that at all. Still, there is plenty of room for all. So no issue in the slightest.
Start
Considering how busy the 'camping' area was when we reached there, I was surprised that I even got parked. I did arrive early (think it was around or before 7am) and at that point there was a single space left. But as you can see from the Google map image below, it's not a massive parking area. So do get there early.
You will find that there are other spots reasonably close by that could also be used for parking. There is an abandoned hotel looking building although the latest Google maps images from 2021 show it as closed off which wasn't the case when I hiked earlier that year. So if it's full take a look around.
This is the OS Grid Ref: NO 10891 70137 for the parking area.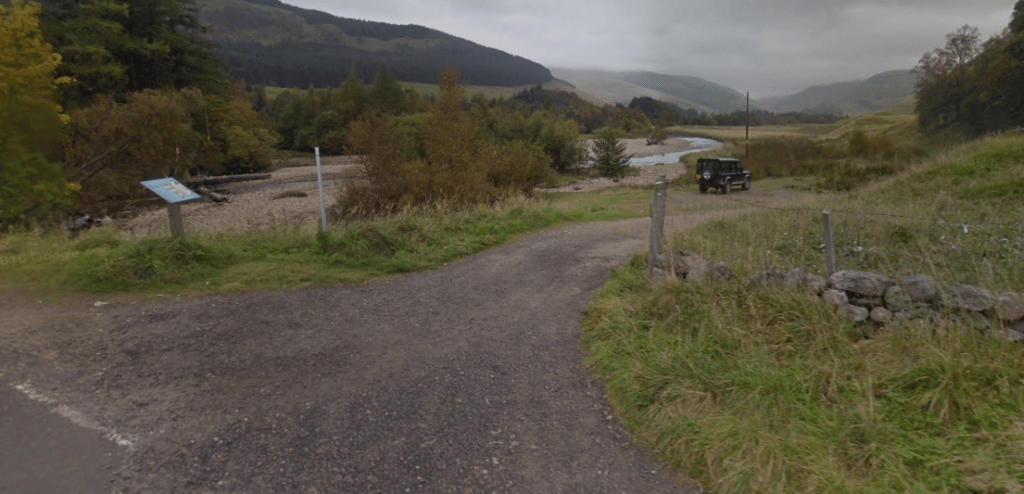 Underway
Once underway you'll find that you've around 8-9km of fairly flat off road tracks that will take you to almost right up to the loch (Loch nan Eun).
Point to note as I've been asked this before when taking a bike. What do you do with it? I'd really hope that no one out in the hills would steal a bike but honestly you just never know. So I do take a fairly sturdy chain with me. With this I'll either chain it to fence or some other solid object if possible. Where not possible I'll find a ditch, rock or some other feature in the landscape so that the bike is not obviously spotted. Then I'll chain the frame and the wheels and leave it there.
Important!!! – Take a note of the GPS position of where you left your bike!
So glad I did this, as once after a long trek I approached where I was sure I left the bike and couldn't see it. One heathery mound is the same as another. Got out my GPS and I was maybe 20-30 meters away from it and I couldn't see it.
So taking note of the GPS saved me a good amount of time trying to find it. Phew…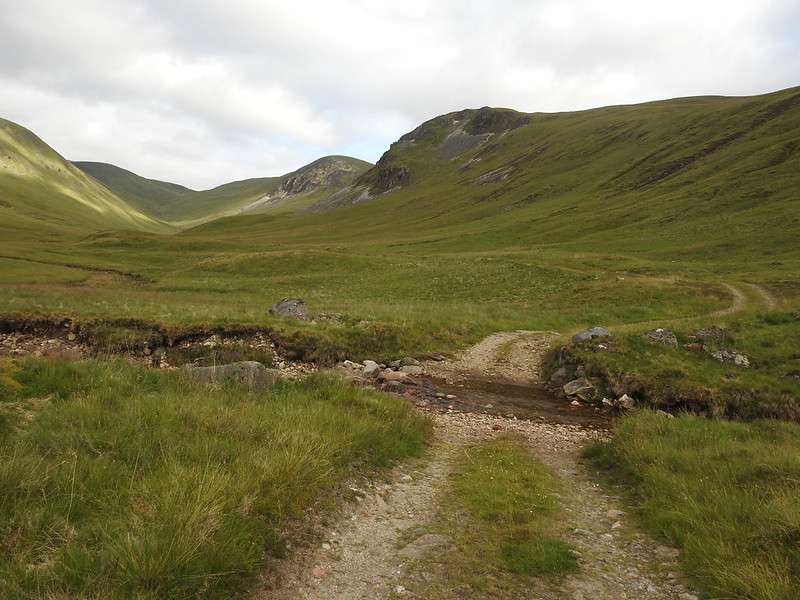 The above photo shows the track which by this point you are almost at the end of the track for cycling. As you get close to the two peaks on the right you'll see the track loses its definition and you can now look for a suitable spot to leave it.
Find a camping spot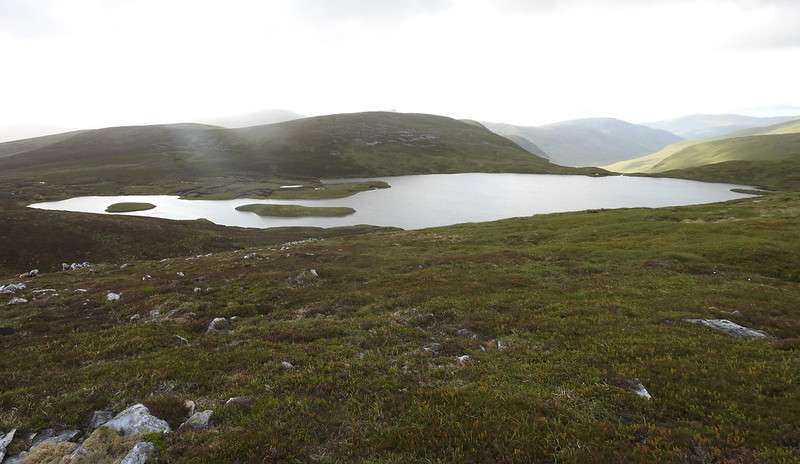 The above photo is of Loch nan Eun, and you will appear on the far right hand side of this photo as you climb up from the path. This photo was taken on the morning of day 2, by which point most of the tents that were there when we arrived had now gone.
You can see though that there is plenty of space around the loch, that is of course should you wish to put your tent near the water. The water line wouldn't get much higher than it is here, as if it did it would overflow straight down the glen.
We (I was wild camping with my eldest son) pitched our tents near to the middle of the loch, close to the larger of the islands in the loch. Reason being that to the right of the photo and also along the path to the left of where you come up had quite a few other tents. It was slightly exposed being away from the sides of the surrounding land, but the weather was OK. A bit blustery, but not really strong wind.
First two summits
Now that our tents are up, we've had some lunch, it's time to get going. Time is a little after midday, but we're up at around 800m already so still plenty time to get 3 summits in. First up is Glas Tulaichean at 1051m. From our starting point it's a maybe 1.5Km until we start climbing, and once you do it's a fairly steady and gradual approach until you reach the top.
You will get some great views of the loch and the wider range of hills. Below you can see that the path and ground is good solid ground for walking on. Not rocky and isn't too steep either. So if you've made it this far then you'll have no issues at all.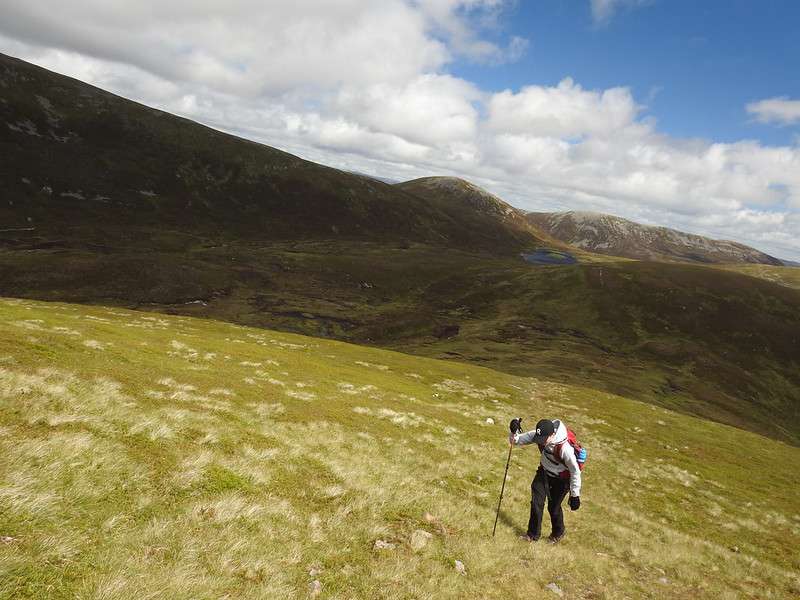 As you follow the path up there are parts closer to the summit that have very steep drops down, so obviously care is needed as you approach the top. At the same time the views down into Gleann Taitneach are beautiful.
Once at the top there is an OS Trig point, but not much else for shelter. So on a windy day you'll probably want to drop down a little bit if stopping for food.
Next up is Carn an Righ. I'd say the best route is to backtrack slightly down from your current position, and as soon as the slope is at a comfortable level for yourself head straight north until you reach the path that leads to Carn an Righ. If you choose to follow the path all the way down to the split which is near the loch then you are adding maybe around 2km to your overall hike. If you do cut across, then the ground is a little bit boggy, uneven and also a small stream to cross. But none of these should physically block you from taking the straight across route.

As can be seen in the above photos the route to Glas Tulaichean is smooth and gradual, while from there you can see the path that makes it's way westwards along to opposite hill to the summit of Carn an Righ.
Carn an Righ
The summit of Carn an Righ is fairly unremarkable. A very stony affair with a reasonable shelter should the wind get up. Which in our case it was a little bit on the breezy side, but nothing dangerous or too bad. From the path up you can clearly see other summits such as Beinn Luthran Mhór (which we were going to do on day 2), but you can tell that many people will do that as part of there hike if doing Carn an Righ. The path between the two is very easily distinguished. As can be seen below. For us though it was time to head back to the tents for a wee rest and bite to eat.
To do 3 or not???
So you're back at your tent, having a seat and enjoying some food. The 3rd hill is calling, you can see it in the distance. It's now getting close to 6 pm, so not too many hours left in the day. This is were you need to know the hours of sunset. This was not too far off the peak in the summer, so we did still have a good number of hours of daylight left – so off we went.
An Socach
Now from our tent position to An Socach there is no defined path (if there was, we didn't see it!), so this one was much harder going. You could see an approximate path going up the hill, but it really looked too steep from a distance. Also it was further west than I'd plotted on our maps. Potentially a bit of a scramble. So we said that we'd head for that position and judge it as we got closer and if it was too steep then we'd walk along the base of the hill to where the stream comes down and where we had planned to go up.
As we approached it was definitely a much more rocky route up, but it was a reasonable warn 'path' and from the base it looked do-able. Maybe a tiny scramble but I was happy with it. So in the end we headed up toward the OS Grid Ref: NO 08309 79913, which if you check a map is roughly the middle of the scree area on OS maps.
All in I think it was roughly 3 hours from our tents up and down An Socach. By which point we were pretty tired. Grab some porridge and of to sleep. Get some energy for day 2.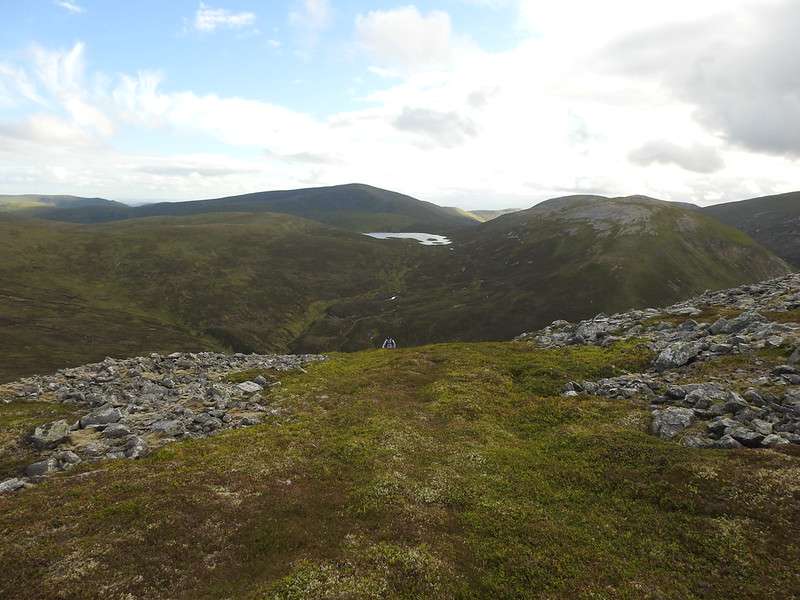 Route