Distance – 15.8 Km
Ascent – ~500 m
Height – 670 m highest point
My Time – 6.5 hours
Season completed – Autumn
Difficulty – 2 / 10
Weather – Really windy
Just want to see the photos to get a feel for the hike – click here
Why not a munro?
This is not a munro for a change, but you will not be disappointed if you choose this for a hike/walk. I had a day off and the weather wasn't great. Every munro in my 'day off' radius I'd either done or it was going to be inside the clouds and to top it off it was going to be very windy. So doing a munro wasn't really on my list. What to do? Scour the OS maps for something else.
This particular walk is very close to Mount Keen (it actually uses the same car park) which is an excellent hill, even for an all the family hike. But that's for another review. This review is about a walk and a waterfall.
First point is the car park, location NO 44636 80383. As mentioned this is the same car park for Mount Keen. It's a pretty big car park and capable of taking buses as well. So apart from on really busy days parking shouldn't be an issue.
Invermark Castle
There are 3 main 'bits' to this walk in terms of seeing things while out walking if you like to take photos like myself. The first one is Invermark Castle. As you can hopefully tell, it's a surprisingly well intact castle. Unfortunately you can't get inside it ☹ If you wish to know more then you can head over to this site about the castle.
Point of interest two
The road from the car park is well maintained and not an issue for walking on. Once past the castle, around 1 km further up is the head of Loch Lee. This has a fairly substantial weir and as a bonus there is a very old cemetery and ruins of a church. Due to the fact the wind was so strong and coming down the glen and over the loch towards the weir it was creating some good waves.

Weather gives with one hand and takes away with the other. The wind was great for creating water spray etc, but it was a nightmare for taking photos. So gusty made using the tripod almost impossible.
NOTE!!!!
Should you go near to the weir to get some photos – be careful! Not because of the water, which goes without saying, but DOG POO!!!! 💩💩💩
The owners of the houses near by seem to have quite a few working dogs – I could certainly hear a few barking away. My guess is they let them out to run around and the grassy area near to the building (not the old church) is full of dog poo. Definitely do not want to set your bag down without looking.
Loch Lee
Once you've past the church you've a couple of km's along the loch side, then another couple before you have to head off the main track and make your way to the waterfalls. This walk is again on a pleasant enough track, it's a compact dirt track as can be seen below.
As you do walk along the loch side you'll see a boat house (more than one, but one that you can get too right at the side of the track). It's got some amazingly thick slates for it's roof! They really did make them strong in the past.
Anyway you can stick your head in, if you're feeling a bit nosy! 😋
There does seem to be a good amount of reforestation going on which is great. Will really make this walk even more enjoyable in years to come. You'll pass an old building right after the junction of tracks, carry straight on. After a short while you're at the turn off to go towards the falls. There is a small bridge to cross, which is solid enough (more than can be said of the next one you reach!). You can easily make out the waterfall from here.
Waterfall – wind
Now as I approach the waterwall and pretty much all the way along the walk I've been getting buffeted back and forth with the wind and has to be said feeling more than a tad cautious of going up and over the top. As right now I'm 'sheltered' by the surrounding hills. I say sheltered but it took me ages to get any sort of slow shutter speed photos, in the end I ended up deleting most of them as when even trying to pin the tripod to the ground the camera still had some shake to it.

You can walk right up the side of the waterfall and there are enough large stones to clamber across that if you wish to take photos it can look like you are in the middle without getting wet. But yet again the wind was very disconcerting, as it could easily have blown me over. If I got a little wet then that wasn't a big deal, but when I climbed higher up I didn't get to close to the edge – that would have been just too risky.
The path up the side of the waterfall is simple and easy enough, not too muddy and certainly there is no scramble involved.
Falls of Damff
Further up the path the wind was getting less blustery and it's strength was very much subdued compared to earlier in the day – but was that only due to the proximity of the hills on either side of me now? I'd taken a fair amount of time taking photos so far, much longer than I expected. Around 4 hours to reach the top of the first set of falls which is essentially half way and I didn't have another 4 hours, so it was time to get a move on.
The falls of Damff are much less impressive compared to the lower falls of Unich. Still a nice set of falls, but much smaller.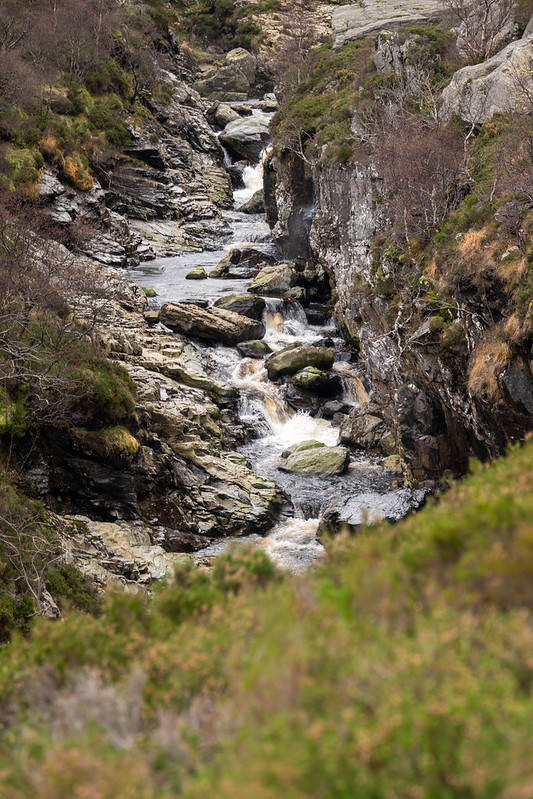 I would certainly been good to spend more time here, and I'm sure next time I come I'll be prepared to do so. For now it was onwards, the sun was going down and I'd had a great time already. At the top of the path there is another bridge to cross. This bridge looked anything but stable! Some of the wood was very rotten and only the weight of the wood was holding the planks down. Nails had either rusted away or had fallen out due to movement and the wood rotting. It is supported by some massive steel beams, so made sure to walk on the wood which was directly over one of the beams!
This is the same bridge, photo taken by unknown less than 2 months after I was there! So by now it may only be the two steel beams…
You could always walk further up and find somewhere to cross, but you'd need to take this into account. (I did the walk in late Nov 21, this photo was early Jan 22).
Cross the bridge and you've now got a slightly boggy/muddy section ahead. It's a small climb to around 670 m, by which point you will have reached a track and of course that will make the rest of the walk back fairly obvious and straightforward.
Mount Keen
If you look around when you are at the top, then Mount Keen is clearly visible – and as you can see here clear of cloud 🙄
Ach… I wasn't too disappointed. I've already done Mount Keen and it wasn't clear at the start, and I bet that the wind would have made it a very slow and tiring day. Thankfully for me the wind had now died down to a mild bluster every now and then.
As you come down you do get some beautiful views of Loch Lee and the surrounding hills.
You can see on the map that the track zig zags a little bit coming down but it's not too steep. The track is suitable for outdoor vehicles so it can't be too steep. The track will take you through a small forested section, plus yet again you can see many more new trees being planted.
Once at the bottom, cross a small bridge then head on back on the track and around the loch. Follow the track and you'll be back at your car in no time.
Route Map