Ascent – ~720m
Height – 939 m highest point
My Time – 9 hours
Season completed – Spring
Difficulty – 2 / 10
Weather – Calm, sunny, pleasantly warm
Just want to see the photos to get a feel for the hike – click here
Family Outing
So this is one of my top hikes for a family and it's one that I did with my other half and our 3 children. At the time 11, 8 and 2¼ 😋
It's a lengthy walk, and although we didn't use bikes, if you had the ability to take bikes then it would be a brilliant one for that. The path in, is around 5 Km, so with that you're going to be on a flattish section for a total of around 10 Km out of a total of just under 18 Km for the total hike. So well worth it if you can.
2 – Really? Two years…
Yes we took our two year old. He was a fit wee lad, in saying that he didn't walk the entire way, I think that would have been a bit much! Yes our 8 year old had a couple of moments where some encouragement was required, but on the whole it was a fairly good going day. So be prepared. If you don't make it the whole way, just enjoy the time outside. For us, I had the back carrier and I carried the wee guy for perhaps ½ of the flat section, then maybe around ½ of the uphill section. He actually had a wee snooze for part of that!!
On the way down he managed to walk pretty much the entire way back on his own. So you will find that even a 2 year old can manage a fair distance.
The Route
This route has a rather large car park, so even on a busy day it should be fine without issues of not being able to park. It can be found at OS coordinates – NO 44636 80383. The entire route has a good track, so in fine weather there is zero chance to get lost. I'd say that unless you're heading out in deep snow where the track will not be visible, then the track is so big that you will have no issues. (caveat that some people can get lost in a cupboard – if that is you then take a friend 😋)
There are no steep cliffs and the like to worry about, just a gradual incline once you get past Glenmark.
The only point to take note off would be the small crossing of a stream/burn just past the cottage. You can just see it in the photo below. In dry conditions there is no chance to get wet feet – unless you want to. On a day with very heavy rain, then you may well have to walk through the flowing water – but if it's that wet, walking through that burn probably won't make any difference to you.
Family, huh? So what should I bring?
As the weather can turn in an instant, this can be hard to say exactly. The day we picked was one of those days where it really wasn't going to change. A nice large, stable high pressure, clear skies etc. So really most had to worry about would be a light shower at most and the temperature at the top can be much colder at the top than the bottom. If you want to know more, then a good place to look is the met office mountain forecast. It will give you temperature range at the glen level as well as the summit level.
https://www.metoffice.gov.uk/weather/forecast/gfjuh7h9t – That link should bring you direct to a Mount Keen forecast. If not head there via Google and search for it directly on the met office site.
So what did we bring?
Gloves and hats for all
Walking poles – not required but can help, even if just one each. The little one really wanted a pole, just to be like his dad – which seemed to give him that phycological happy boost to keep on going.
Toddler carrier
Chocolate, pack lunch and enough water/juice. For us, that was probably around a litre each. A tip when it comes to liquid – milk or milkshake will hydrate you much more than anything else. Of course you have the issue of heat, but on most days in the hills the temperatures aren't warm enough to turn the milk. If it is too warm I'll carry one milkshake and the rest will be water. If that's the case I'd drink the milk first.
Various studies have shown this to be true, but I'm going by my own experience.
Jackets. We didn't need these but had them just in case.
Sturdy boots. For this kind of path/track trainers would suffice, but if you had boots then yes use them.
You can tell from the photos what else was being worn.
What to see
The flat section is a rather scenic part with a variety of trees along the path and heathery hills on either side. You can see right down Glen Mark and all in all it's rather awesome. As you near the end of the flat section you'll come to a monument – the Queen's Well.

Right after the Well you'll see a cottage and it had a picnic table, so you can even stop there and put your feet up for a wee while. After that point it's uphill.
Adders
In the spring, Adders like to come out and into the warmth of the sun and on our walk we were 'fortunate' enough to see a couple of them. I can't recall seeing an Adder on any other hill, yet on this one we seen two. It may well be to do with the path being a good wide path and the weather was dry and quite sunny. They are the UK's most poisonous animal – but rarely fatal to humans. If you approach them, they will try to get away.
They can kill small dogs, so do be careful.
Odds are you'll be making a fair bit of noise as far as the Adder is concerned as you hike on up. That being the case by the time you get anywhere close to them, they'll be off.
Once at the top, there is a OS trig point along with enough boulders and shelters to sit down again for a sandwich or a snack. Some snow was still around near the top on our visit (early May), which of course is a wee bonus for kids. After that, it's the same journey but in reverse.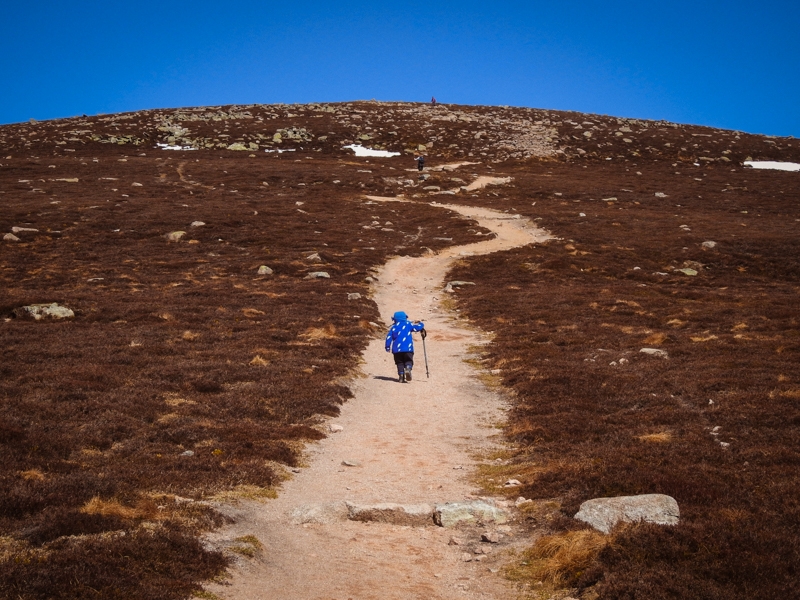 Route Map