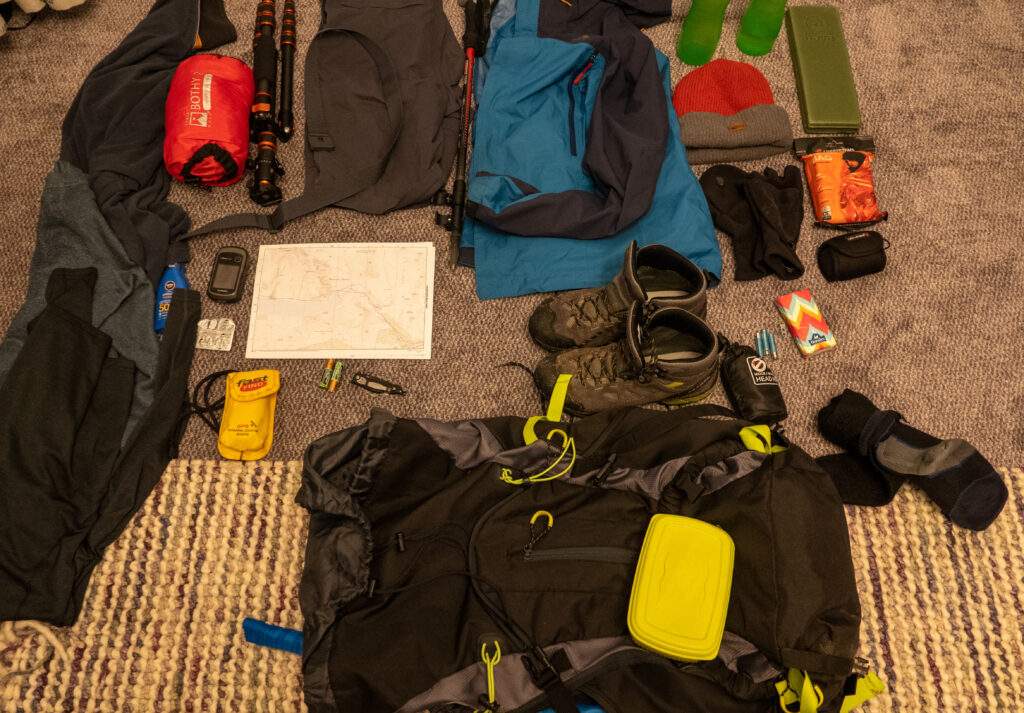 So What is in my bag? Hiking solo I have a range of items that I always take with me. Some I've never used and all going well some I'll never have to – certainly not in the summer anyway.
Then there is a range of items I take just in case of certain weather changes and then off course you have the essentials. Items that you really shouldn't be without in the middle of nowhere.
Not an item as such but something you really should do – register for emergency 999 cover via text.
So what's in my bag?
Emergency gear
Bothy shelter – that's the red item in the photo above. Windproof shelter that you sit in. Great for bad weather if hungry and want to stop for a bite. Also will be required if you're injured.
Emergency blanket – Keeps you warm if injured and you can't move.
Emergency Beacon – you don't always get a phone signal. What if you twist your ankle in some rut or hole and can't move. Frequently I'll see no one on the hills. Activate this and emergency services will be alerted to your location. Works world wide.
Insulating Jacket – I put a feather down jacket into a compressible dry bag. I use this jacket for winter months, but for an emergency case in the summer it's so small and compressible it's ideal.
Clothing
Gloves and a hat – see below on weather. Essentially the top of a summit is pretty much always cold.
Rain jacket – yeah it's the hills and you just never know. Also very good at stopping wind chill.
Boots – I really like my Scarpa boots. Use them all year round
Seal skin socks – find them ideal for keeping your feet dry in conjunction with good boots.
Trousers – I've used paramo trousers for years and they are the business for winter and summer. Can get a little warm in the summer, although they've a zip up the full side so you can use that to keep cool. Recently purchased some Brasher ones to try as I needed something rugged for a job outdoors. They can be made into shorts so thought it was worth a shot. They're OK – but not great in the rain. May well review them later.
General items
Folding foam matt for sitting on – very small, stops your bum getting wet if you want a seat. (Green rectangular block in the photo)
Compass (plus spare) and map (self printed – OS maps) inside a holder. Spare compass – just in case drop/smash/break one.
Whistle – attract attention if you fall or get injured.
GPS (eTrex 30) unit with spare batteries – even though I've a map and compass, the GPS is very much needed to help confirm I am where I think I am.
Walking pole – just the one. Ideal for balance when crossing streams, takes a load of your knees. And I only use one as having two with a camera is a pain.
Head torch with spare batteries – what if you need to stop and it then gets dark?
Food and drink
headache pills
small knife
Tick puller – Video from NHS doctor on removing them here
Midge net and Smidge
Suncream

Bag for the car – small range of items great to have after a hike
change of socks
food/drink
sandals/footwear change
bank cards – don't take them with you on the hill!
first aid kit
All in, my bag for the hill will weigh in at around 8 Kg by the time I've added food and drink. I could, if it was a busy or popular hill with very good paths get away with taking a lot less, plus you can get away with trainers on the popular walks as they have great paths. But generally I'll save easier hills for the winter months.
I take my time, make a whole day out of being on the hills. Often I see no one or only a couple during the whole day. So got to be ready should I not be able to make it out myself.
Weather
Always, always check the mountain weather beforehand – met office mountain weather here
As I write this, today in the UK has an extreme heat weather warning. Yet look at the feels like temperature for Southwest Highlands. If you were at the top of Ben Nevis then it's going to feel like it's freezing or just above freezing! A difference of 15 degrees isn't uncommon between glen and summit, previous days chart was 13 in the Glen down to -2 on the summit. So if you stop or have to stop for any amount of time, be prepared for it.
Yes I frequently stop when at the top to relax, take some photos, have some food. So I make sure I'm warm enough.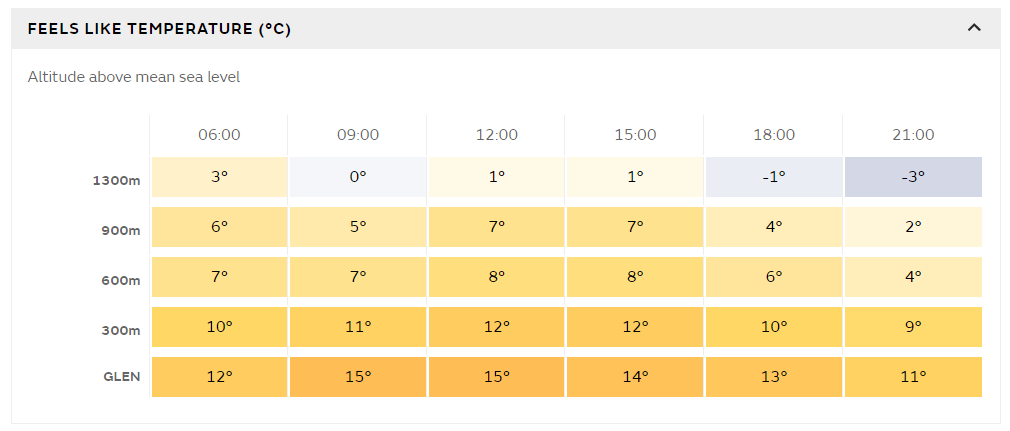 Anything else?
Yes, the one thing I don't take that I could and may well be recommended is a first aid kit. My thoughts are if I'm that in so much need of first aid that I need it right away, then I'll be in a bad enough situation as to require the emergency services. If I get any cuts/grazes etc then those can wait till I get back to the car/home.