Height – 1025 m
My Time – 6.5 hours
Season completed – Summer
Difficulty – 4 / 10
Weather – Started low level clouds, which was actually an inversion with a super clear day on the summit.
Just want to see the photos to get a feel for the hike – click here
Cloud inversions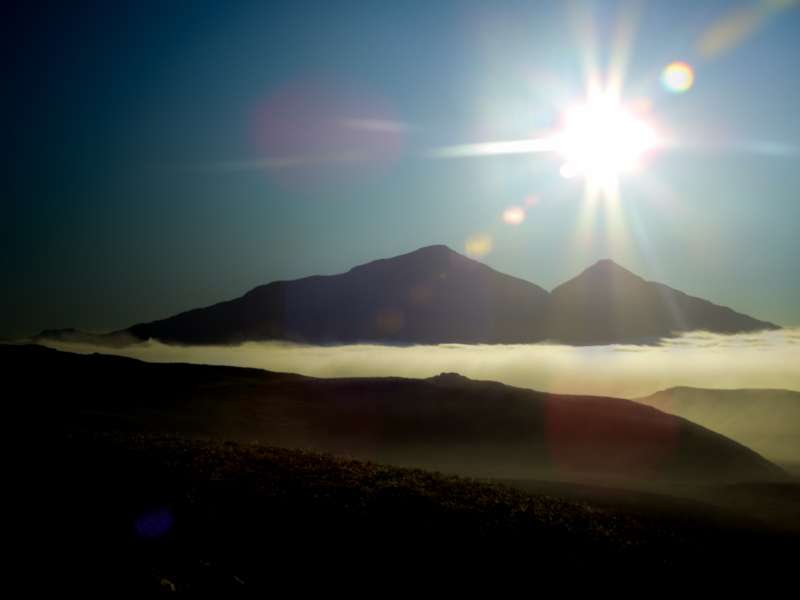 If you have had the pleasure of being in the hills and experiencing a cloud inversion you'll know that joy of breaking through the clouds. If you've never experienced it, then hopefully the following will give you a good indication of the pleasures of such a phenomenon. It really takes some beating.
Essentially it's when you are hiking and the clouds are below you and you've got excellent visibility. Sometimes there may be a loch or other body of water and it may have a cloud/mist above it and you above that. But that isn't what I'm meaning. An inversion is when the whole place is in the clouds.
So with this review I have some fond memories

How to tell if there will be an inversion?
I'm no weather expert, but I do know that ideal conditions are a high pressure area (keeps a lid on the cold air down low) producing stable weather, cold nights (lets the cold air sink filling up the glens) and they are more likely to happen in the winter months. If you can see the weather has been stable, plus has had high levels of moisture then these again will increase the likelihood of catching an inversion.
Starting Point
There is very limited parking for this hill. What you will find is that right outside (well a very short walk) the entrance to the SRUC Hill & Mountain Research Center, Kirkton there is a parking layby (OS Grid Ref: NN 35566 28134). If that were full then the closest one is further back away from Tyndrum down the A82.
You start by walking down the entrance road to the SRUC, cross over a bridge and when you reach the farm building (right before them), you head off to the left. There are a few little roads/ farm tracks. The one you need to take will take you up and passed the cemetery.
Shortly after that, you will need to cross the railway. This is a level crossing. There is actually a footbridge but it's not on the path and it's access is blocked off. Go check it out if you want to see it and get a photo or two. But you certainly don't need to aim for it.
Boggy and pathless
The hill was covered in clouds, or at least that how it looked from my low position on the hill. Staring up at a hill with no path and no view, not exactly filling me with joy. Anyway carry on in hope that things will change. You'll find an old stile that you must use to cross the fence. Then it's onwards and upwards. It wasn't much beyond the stile when all of a sudden the clouds thinned out and it was possible to see for miles!
A bright sun and I was now level with the cloudbase. Awesome really doesn't do the feeling justice. Carried on gaining height, stopping every now and then to take in the views.

As you look around you can see a whole host of other peaks. Ben Dubhcraig, Ben Oss, Ben Lui, Ben More, Stob Binnein, Cruach Ardain, Beinn A' Chroin, An Casteal and when you reach the top you can easily see as far away as Ben Nevis.
Eventually you'll reach the 600 meter mark, this is where the deep boggy parts kick in. Not much you can do to avoid it. You can try and you'll need to skirt back and forth and around the various ponds and puddles etc but in the end unless it's frozen you will need to get muddy. It's not until you gain another 30-40 meters that the worst of it can be left behind. Certainly other boggy portions, but the worst is past.
Path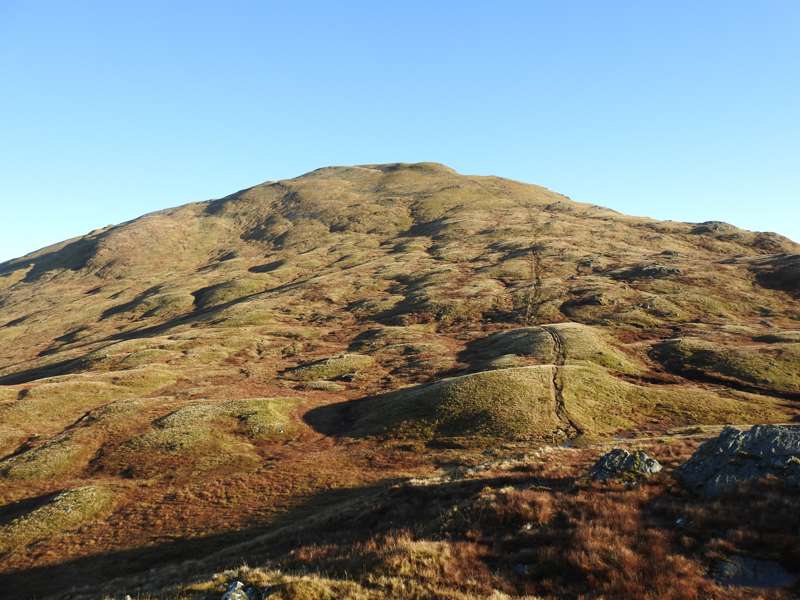 Eventually you'll see a path, if you want to call it that. As you can see it in the above photo it's more of a scar than a path. Still, it will lead you to the top. Or at least the first summit which is just under 1000 m. By that point you will have to drop down a tiny bit, maybe 30 – 40 meters or so. Then it's back up to the actual summit at 1025 m.
On a fine day like I had, there is no issue, but if it was misty and very poor visibility then you must be careful crossing the ridge. The path should be clear, but if for any reason it isn't then you should not be dropping down any considerable height. If you find yourself doing so – stop!
Summit is near
As you get closer to the top, the ground does get harder and in places (only really near the top) a bit harsher and stonier. But overall now it's good going and comfortable for the last section.
There is a small cairn at the top, but nothing that will protect you from the weather should it turn worse. Not a concern for myself, but even on a nice day it's good to get out of the wind. So I went over to the north side of the summit, dropped down a small bit of height, out of the wind, then it's time to relax for a small lunch.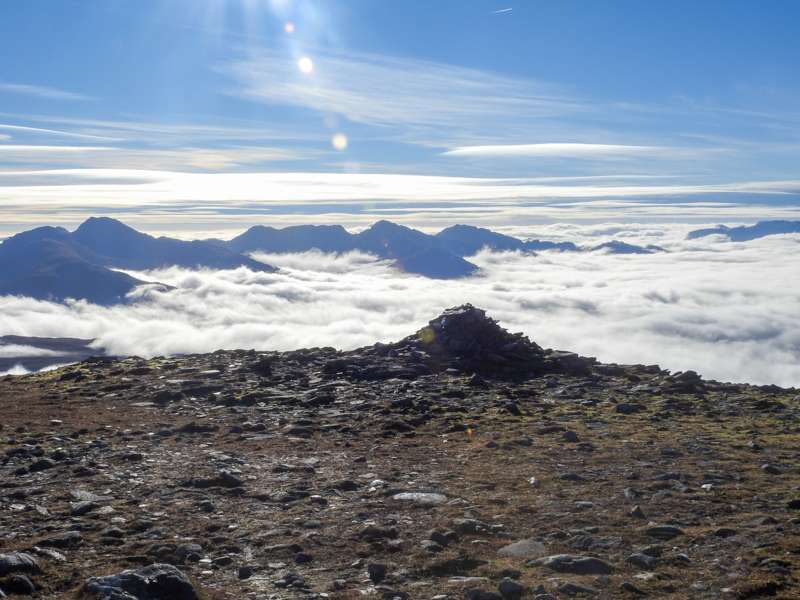 The way back
Obviously there isn't much to add here as you will have already have covered this. It's back the way you came.
Do keep an eye out for any wildlife. I seen zero coming up the hill but on the way down came across a good number of Ptarmigan. Not to mention that as the light was on the way down now, it created a completely different atmosphere.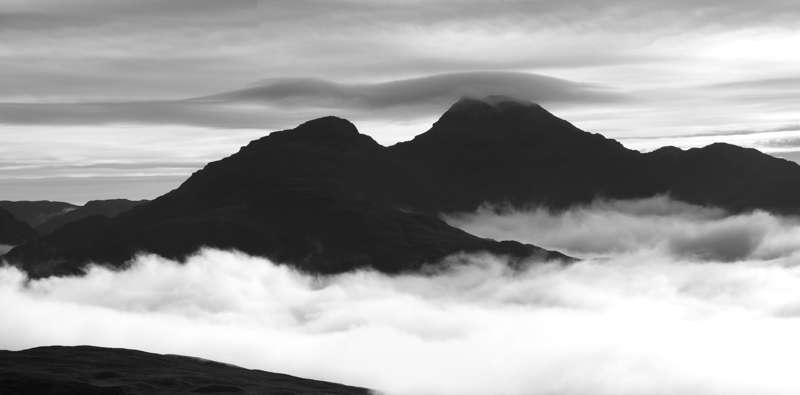 Route
Photos
I know I like my photos, but this small selection doesn't do the walk justice. Head this way to see all of them 😎📷⛰