Ascent – 1281m
Height – 937 m highest point ***
My Time – 9-10 hours
Season completed – Autumn
Difficulty – 3 / 10
Weather – Very windy, sunny, wet, cold – really changeable.
Just want to see the photos to get a feel for the hike – click here
3 months and zero hills…
Having encountered a dry spell of outdoor activity. Sometimes other bits and pieces take over, and that's what happened. The last time I ventured out wasn't the most successful either – too much rushing and not enough enjoyment. As such the planned walks didn't go as expected. This needed to change.
So a day off, mid Oct time to get out. Bottom line these two are really quite good. not difficult to climb, route is obvious and the views are pretty darn good. So if you're looking for a couple of simple hikes with some good open spaces then these hills are ideal. Both Meall Na Teanga and Sròn a' Choire Ghairbh look like they're steep from the route map. I was expecting a bit of a slog – but they weren't.
Start
The car parking area is small, and I guess if it were busier this could be an issue. For mid Oct though I was the only car at the start, at around 8am. One more car turned up not long after myself as can be seen in this photo.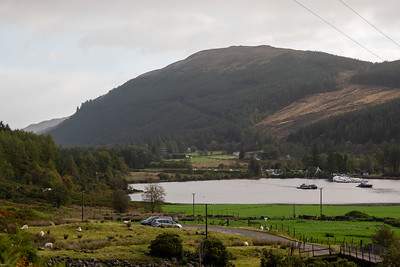 First part of the walk leads you along a forest track and the woodlands are quite thick – which does give it a calm darkened remote beauty as you wonder through them. There is roughly 3km of a fairly flat walk through the trees and then you deviate of the main road that heads through the trees and up a path. It's well signposted and that section will be another 1/2km or so before you come out of the trees and into the open.
Along the way there are a few waterfalls, so for myself it's a good time to stop and grab some photos 😀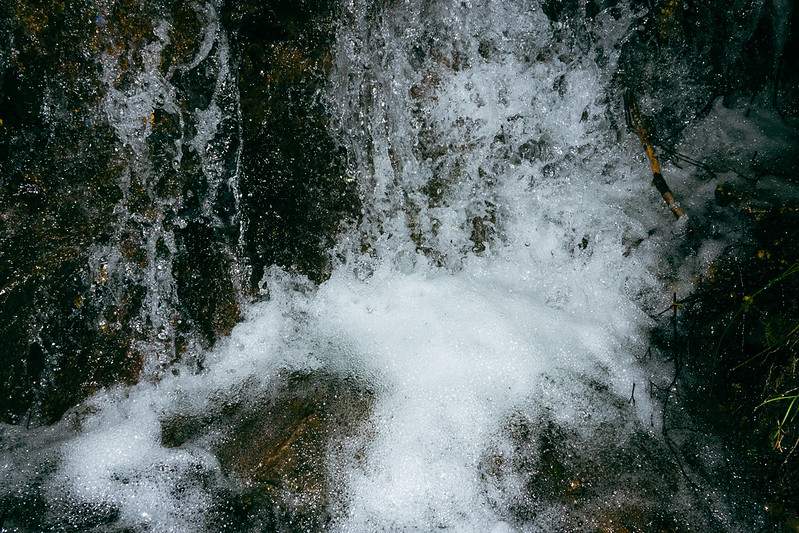 The bealach (pass) is nothing more than a very gradual incline. No steep or difficult sections, just slowly gaining altitute as you go. After another 2 and a bit Km you'll find yourself at the junction. You can go left for Meall Na Teanga or right for Sròn a' Choire Ghairbh.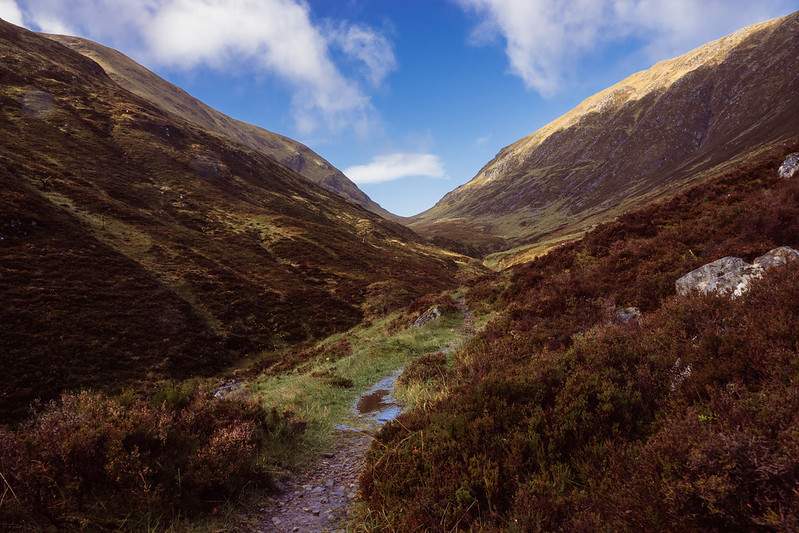 I had planned or at least considered doing Meall Na Teanga first and then heading back over the summits, something like this route map here –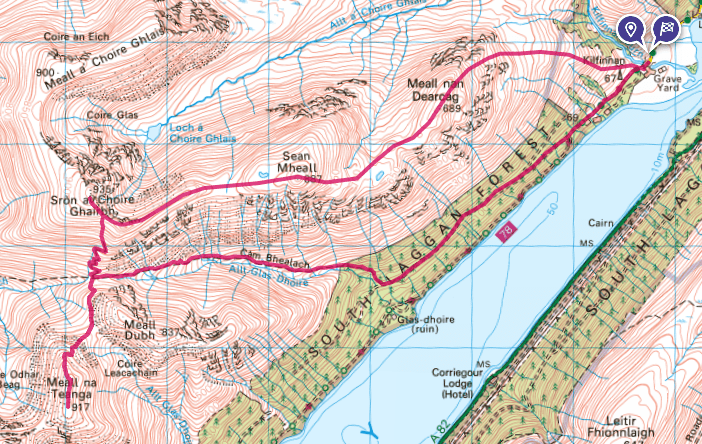 In the end though I decided that walking back along the forest path would have been more enjoyable and quicker – which it was. Also Sròn a' Choire Ghairbh looked slightly steeper and it's a fraction higher – so I choose to do that one first. The weather suggested visibility was going to improve (it wasn't bad, just not totally clear), so you just never know that rather brisk wind would blow away the clouds by the time completed the 1st one.
Steep?
Even though it is steep – it actually isn't! If you follow the path up which zigzags most of the way up, you'll find that it's really not hard going at all. Just a gradual increase in height. It seemed like no time at all and I was at the summit. Very pleasant indeed. From this side, you can clearly see the path up to Meall Na Teanga. It also looks a little steep from afar – but it won't pose any issues once you're on it.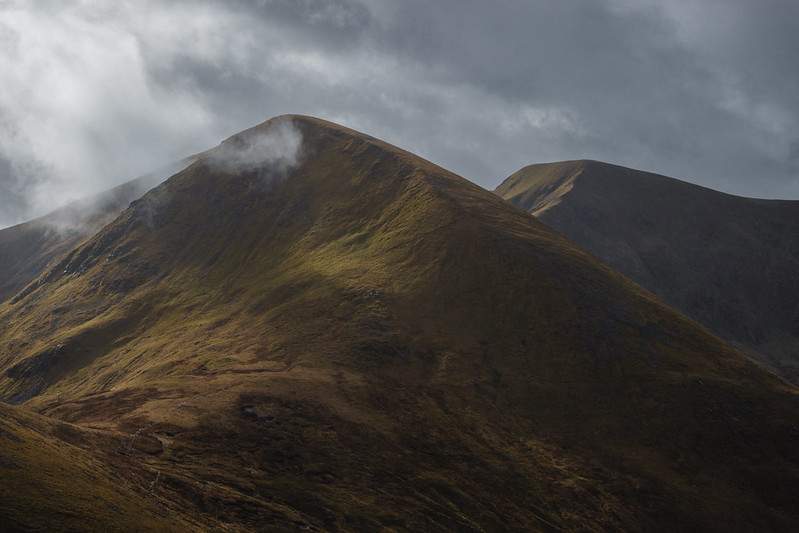 So back down you go – again this took very little effort or time and I wasn't rushing. The path is firm and the only boggy patch is at the mid point between the two summits and a little bit on the way up to Meall Na Teanga. Even that wasn't too bad, but certainly good walking boots will be required.
Wind
The wind had been strong in places. The route through the bealach was sheltered due to the direction of the wind. Also it didn't feel too bad going up Sròn a' Choire Ghairbh, a few strong gusts that pushed you around, but not too bad. Now I was heading up Meall Na Teanga and I guess it was a combination of direction of the wind (direct westerly through the glen), it had started to rain (always brings stronger winds) and the lay of the land, but it really picked up.
I was a little concerned as I was right at the bottom and if I could barely stand now, what would it be like at the top! There were a couple of other guys ahead of me around the 700m mark at this point and when they came past me on the way down we spoke (as you do). One of them had nearly been blown over and said it was really strong – but when they reached the top section the wind was non-existent! Just the lay of the land and the way that the wind was moving.
Sure enough once you reached a certain height and distance along the route, the wind died down very considerably. The clouds were still moving very rapidly near the hill, but on the summit itself – windy, but nowhere near as windy as the early portion.
Views
The cloud, annoyingly was just a bit low, but every now and then you'd get to see the bigger picture. Amazing! For hiking visibility was great, but for the long view, not so much.
Anyway, now it was time for the return journey. Nothing to report here. Just the same path back. Minor bogs at that mid point, followed by a firm and solid path, then track back to the car.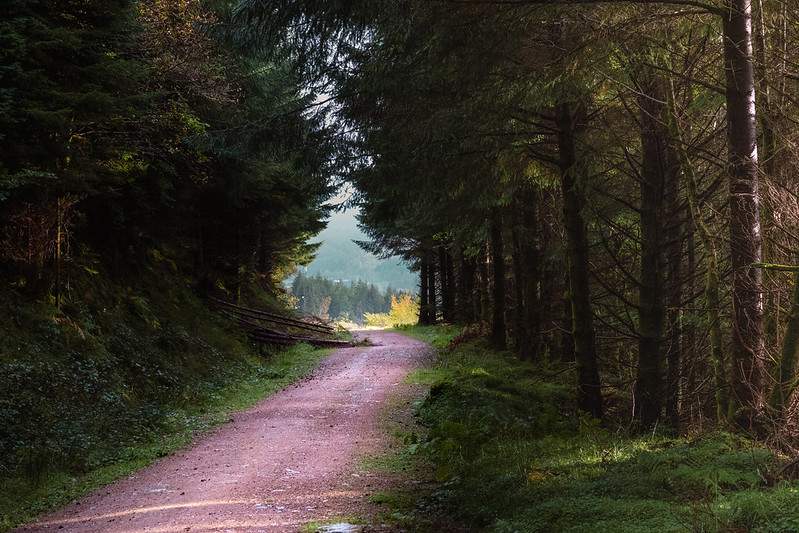 OS Map Mistake or Deliberate?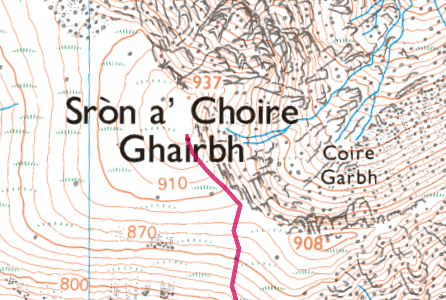 This is a little annoying, and it's certainly not the first time I've seen it. Sometimes if I can be bothered, I'll report it to Ordnance Survey, other times I can't be bothered. They do put in 'mistakes' to aid with copyright, but a summit value should always be correct IMO. So is it 935m or 937m?
Route Map