Two summits close enough together that bagging 2 munros in the shortened days of winter is not a problem. The start section is simple enough that walking in the dark with a head torch didn't pose any issues. (first time I've tried this)
Really wanted to capture a sunrise from near or on the summit, and ideally I wanted to camp overnight – but the weather was not playing ball. When reading the below take into account I started in the dark and it's the time of year when crampons are a pain due to really not being required but at the same time there is frozen water on rocks which makes things dangerous. Plus the high altitude freezing level means you have to walk through wet slushy snow while transitioning into the firmer stuff.
Height – 1076 m and 1004 m
Total ascent: 1228 m
My Time – 9 hours
Distance – 14 Km
Season completed – Late Autumn
Difficulty – 6 / 10 (weather and other issues gave higher value here)
Weather – Freezing and snow from 800m and up. Clouds on the summits, clearing sometimes.
See here for Route Map
Just want to see the photos to get a feel for the hike – click here
Darkness
Well this was the first time I set out to walk long before sunrise was expected. The weather had suggested clear skies for most of the day. So with that and prospect of snow at higher levels it seemed like a great idea to be able to reach the start of the bealach at around 744m, at which point I'd be able to see Loch Lyon and Beinn Mhanach.
If you're arriving early enough then parking at the station will be fine. Think I was the only car there all day other than the locals. Now as mentioned, going to use a head torch for the first portion. Slightly worried about this, but having looked at the aerial/satellite maps which showed a gradual path which looked reasonable. Nothing in the way and by the time I reached the harder section I expected the start of dawn.
So walking in the dark ended up being fine – no issues at all. But this path is very eroded and very boggy in places. You also have to cross small streams on the way up it which can all make it a bit indistinct at times. The indistinctness is due to people always going wide to avoid the really boggy parts and as such the path becomes much much wider and then invisible.
Difficult portion
The most difficult portion was around the 650m mark where you encounter a rather steep section. Due to having left the path as it vanished during a boggy portion, I had just kept heading up. It was possible to see enough of the hill shape to see where I was going and there was a sort of path. As I approached the steep portion using my torch to make sure I was on some kind of path there was what looked like two path/options.
The one I was on lead up the side of a stream and quiet do-able but as the ground was very wet and soft with a steep drop off into the said stream – which on some parts was essentially a small waterfall, it wasn't great. The other was perhaps 50 m or more to my left with a more gradual incline. But their wasn't a path that I could see – just the rough layout of the ground.
So I checked my map, I was right on course, or so it seemed and up I went. Thinking I wasn't really looking forward to going down this section for the way back. On the way back though when things were much clearer, it was clear that had I have moved a little (5-10 meters) to my left I'd have been on the actual path. This zig zagged a bit and as such was much simpler to come down (and would have been much easier to get up). So I was essentially on the right path, just a fraction out.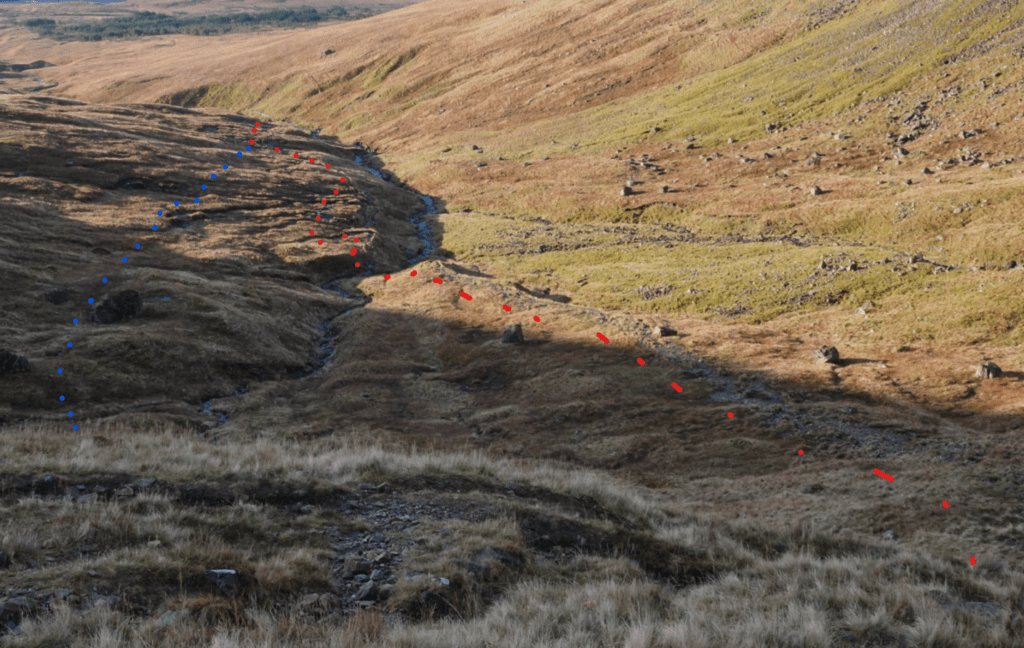 Plain sailing – sort of…
Now at the bealach, middle portion of the hike I was hoping to get some cloud free views of the sun rising. Not to be unfortunately. The clouds weren't thick and visibility was good enough but I certainly wasn't going to be seeing the sun.
By this point the landscape was changing from being wet to being frozen. Not time or conditions for crampons but at the same time you've got to be very careful as some of the smooth rocks have a thin sheet of ice in places. Always feels slightly treacherous and the sooner you get to ground covered in snow the better.
With the small amount of snow, the path is still clear and you'll see a cairn to go by. I continued to follow the path which went just to the west of the ridge. But here's the thing as I got closer to Carn Sasunnaich the path ever so slightly was going downhill! The ridge is only 10-20 m above you at this point. So I left the path and deviated to the ridge. No issues. Minute or two later I was at the cairn.
Carry on
When you reach Carn Sasunnaich and the clouds stop you from seeing any further than a few meters you may think that you've arrived. Nope – carry on. The real summit is just a little bit further along. To reach it you have to drop down a few meters to then go back up again. But it's really quite close and easy to get to. Just carry on south and a short walk later you're there.
Backwards
Back the way you came until you reach that mid section at around 744m. Although the ground was covered in snow, this upper section of Beinn Dòrain felt firm enough and without snow I'd guess would be pleasant enough to walk on, as in little to no bogs.
Now I'd considered doing Beinn Mhanach, but by the time I reached the crossroads of my plan I decided to do just the 2. So up to Beinn an Dòthaidh. Initially this section has a path which is OK-ish. Quite eroded (again) with lots of loose stones, but it's clear to follow. As you do gain height, slowly it disappears and then changes to marsh/bog. That mixed with slushy snow wasn't ideal, but you'll quickly stomp through it. It doesn't last too long.
If you loose the path, just head up in a north easterly direction and before you know it you're looking out to Rannoch Moor. It's one of those WOW moments as you start to approach the summit then the whole landscape opens up before you as you reach the summit. Truly worth making the effort.
Beautiful as it was, cloud cover wasn't great for photos, so you'll just need to take my word for it. Awesome views!
From the summit you can easily see where you've been. The above photo shows the summit of Beinn an Dòthaidh and in the background is Beinn Dòrain.
Time
So due to not doing the 3 summits I had a bit of time. What to do? Well I put on an extra layer and sat there on the snow beside the summit, had some food, watched the traffic going through Rannoch Moor while enjoying the view! Watching the clouds coming and going, sometimes it was clear, then you couldn't see very much at all. Either way I took my time to relax. After a wee while I wondered across to the westerly side of the hill to get some more views and hopefully some photos before descending.
Descending was pretty much the same from the other side. Just make you way to the mid point of the hill (Coire Reidh) and retrace your steps.
The end of the day was approaching and as such the sun was setting and the clouds had now fully disappeared – could have done with that a few hours earlier, but that's the way it goes. Still at least I was getting some cool views down the glen towards Tyndrum.
Just in time
Now what happened next was complete coincidence. Of course I could see the train station at the bottom and I was thinking it would be cool to grab a photo of the station with the sun setting not really thinking that I'd catch a photo with a train in it. After all the station has only something like 3 trains going through it each way per day. Anyway I walk along the platform looking to see if anything reasonable to grab a photo off. Nothing really took my fancy, but as I reached the end of the platform I could hear that classic clickity clack noise from the tracks.
Oooo, is that a train coming! Indeed it was. Didn't really have time to find a suitable angle or anything but managed a few reasonable shots of the train as it pulled in.
To top it off right at the end of my walk a friendly robin came my way 👍 Sorted. Great way to end a walk.
Route Map
As you can see the route map has more than just the two I completed. Depending on the weather, energy, speed etc I gave myself the option of doing a 3rd – Beinn Mhanach. In the end I decided not to rush it and only did two. It does make hiking more enjoyable not to rush. In the summer, doing 3 would be much simpler and enjoyable.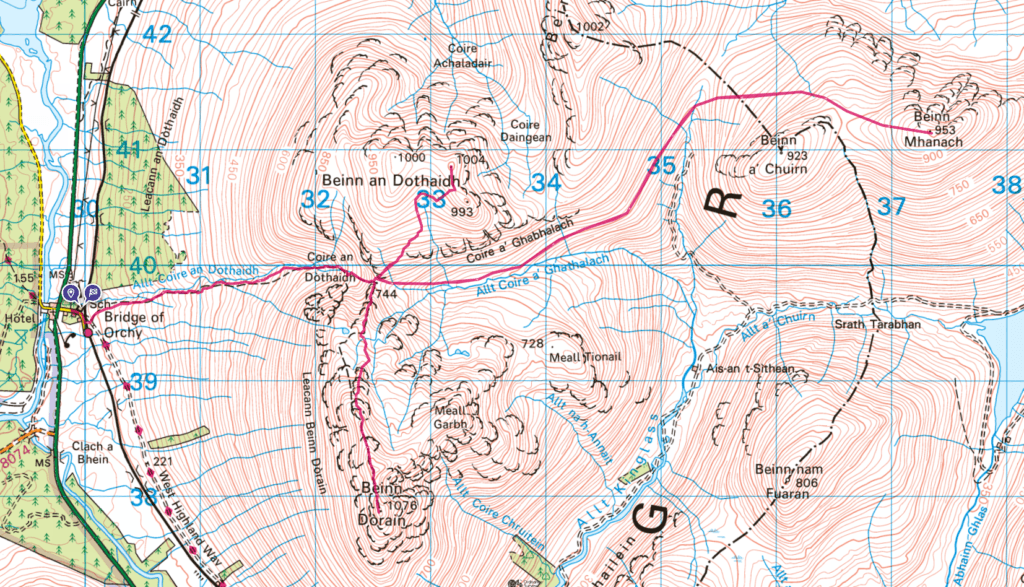 [FAG id=1285]