Short dark winter days – what hills are doable? Meall nan Tarmachan is. It's a very short hike and you could do the ridge walk if you started early enough. Providing you don't have snow issues in the car park! Note to self – average car can't handle any form of snow, especially if it's already compressed.
Height – 1044 m
Total ascent: 717 m
My Time – 6 hours
Distance – 8 Km
Season completed – Winter
Difficulty – 5 / 10 (patchy ice and deep snow in places)
Weather – Mostly clear, freezing or close to and snow from 800m and up. Clouds on the summits, clearing sometimes.
See here for Route Map
Just want to see the photos to get a feel for the hike – click here
Gear
So it's winter, snow on the ground, it's not freezing apart from fairly high up – but it has been snowing and very cold (freezing) the previous week. So in these potential conditions make sure you take some crampons and an ice axe. For this type of walk you don't require winter boots in order to use crampons. You can get flexible crampons which can be used on normal hiking boots. I don't own winter boots – any winter walk I've done is a walk and not a climb.
Scarpa boots (used summer and winter) and Grivel G10 crampons are my choice. such as these found here. These are suitable for walking in, not some technical ice climb. For that you will need something better and stronger (winter) boots. As well as that I also have an ice axe which came in super handy on my walk (well in the car park! read below). Apart from that, it's just a case of layering up or at least having extra layers just in case.
Car park + snow + minor slope = …
All the roads are clear, the temperature is not freezing, but there had been snow a few days back. I was going to put my snow shovel into my car before I left just in case (but in the morning rush, forgot…). As I started to reach Killin which is the closest village, you could see the snow at the sides of the road, but still the roads where perfectly clear, even the single track road to the car park was clear, expect for a tiny patch.
BUT – the car park wasn't. Turn off the road into the car park which has a very slight slope going down. After going perhaps a few meters into the car park it dawned on me – snow! and I'm going downhill! Stopped and reversed into a space to turn around and head back out of the car park. The car slipped and slide all over the place, eventually I made it half way back to the car park entrance. At this point previous cars had compacted the snow and I was getting nowhere! Arrgghhh and no show shovel!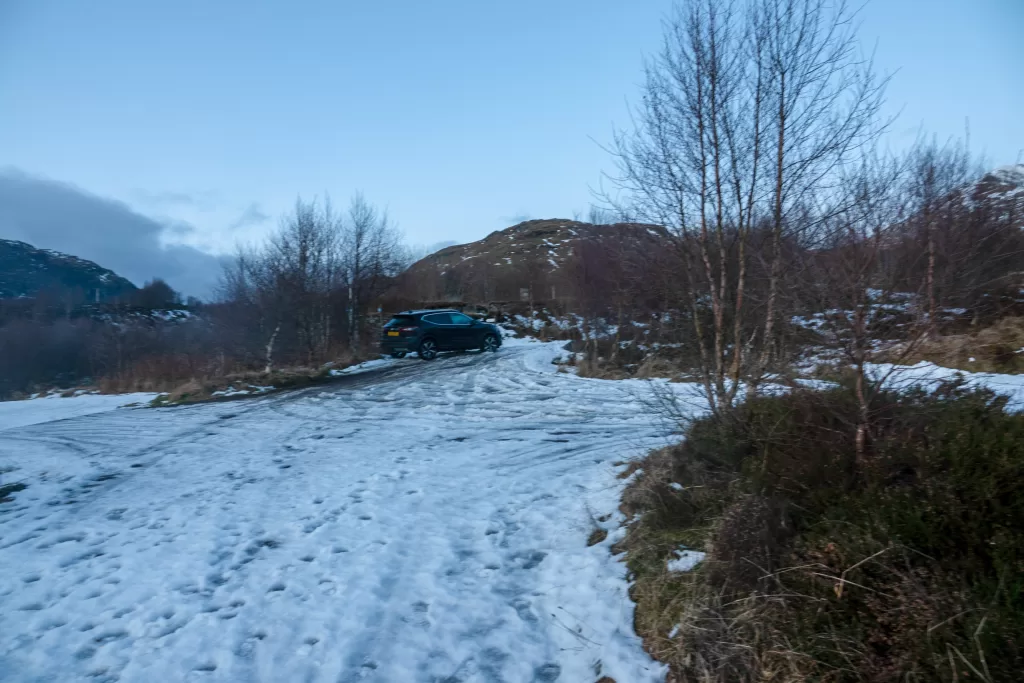 First time usage for my axe
Thankfully I took my ice axe with me. So very slowly I ended up hacking away at the ice and snow, and perhaps a foot or two at a time I was making my way closer to the entrance. Needed to make sure when and if I got for a walk I was then able to leave without issues. Perhaps an hour later someone else turned up. Warned them not to enter the car park – which they didn't. But for them to even reverse back to the road required the two of us to dig out (with our ice axes) to get back to the road. It really takes very little snow when it's been compacted to stop an average car!
It took ten to fifteen mins until we got his car back to the entrance, then he started to give me a hand. Thankfully one other person turned up and we stopped him even reaching the entrance of the car park.
So now between the three of us, we got my car back up what is a tiny slope to the road! Now I'm about 90 mins or more later in walking than I wanted.
Plan change
Initial plan was to do the the ridge walk and not just summit, but it's a simple enough walk that you can head to the summit and then just see what that time is and what you wish to do depending on time/weather.
Let's go
From the car park, head down a little and you'll see a sign for Meall nan Tarmachan. The path is clear, even with the snow on the ground. You follow the gently rising path which isn't steep at all. Carrying on in the same direction until you reach a fence. This isn't the broken fence with a non gate as you will go through an empty gate, but that's not what I mean. You keep on going in a westerly direction until you reach a proper fence. After that the path should again be clear. Change direction roughly 90 degrees and it's a straight-ish hike up another 200m.
Crampons or not?
With snow melting and the weather is going between freezing and not, the way is clear then it's nothing but a sheet of ice. So do I put crampons on or not. It's a pain but with the patches of ice though it best, that way I didn't need to deviate of the path. You could have not put them on (and I seen a large group hiking without any), but I did put them on and as I got higher up glad I did.
After you reach the first peak at 923m you head down a little and at this points it's all ice at the bottom. Looking up you can see the summit and also a rather steep portion. If it wasn't winter, the path and steps would be brilliant and make the hike very easy. But with the melting snow freezing on the path all the steps were sheets of ice. So crampons were very handy. Again you could go up the side of the path where the snow had been blown away, but I stuck closely to the path.
Almost there
Once you do pass the steep portion, its plain sailing to the summit. Some of snow was very deep, all with a frozen surface. So the usual standing on firm solid snow one second, the next you've fallen 3 – 4 feet into the snow! Rather tiring. Weather was still clear, the path takes a gentle incline which takes you up to the ridge where you can see across Glen Lyon hills and much further. Once up, you briefly double back to get to the summit.

Icy
The summit itself was very icy, but the views were great.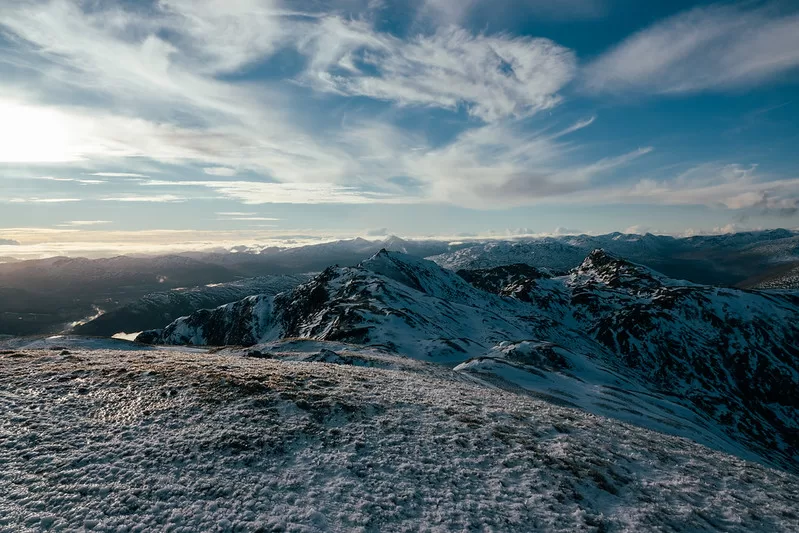 Route Map